2014 Ependymoma Awareness Day Outreach
— Categories: Press Release Posted on May 7, 2014
In an effort to raise awareness of ependymoma, patients, caregivers and medical professionals from around the world dedicated April 10, 2014, as the third annual Ependymoma Awareness Day.
Collectively, these events helped to create a greater understanding of ependymoma. Below are a few of the Ependymoma Awareness Day activities that were held around the world this year!
Butterfly Release and Can Shake in Perth, Australia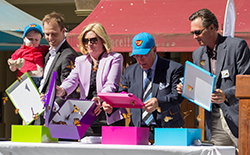 (Perth, Australia) Family and friends of Ethan Davies, and members of the public, commemorated Ependymoma Awareness Day in Perth, Australia. Ethan Davies was diagnosed with grade 2 ependymoma in January of 2012. Supporters held collection tins at various locations across the city seeking donations. They raised over $12,000 for the Ethan Davies Scholarship for Brain Cancer Research at Telethon Institute in Australia. At Forrest Place, there were presentations by the Lord Mayor, Lisa Scaffidi, and Professor Jonathan Carapetis (Director of the Telethon Kids Institute). Shannon Davies (Ethan's dad) and Laurence Goodman (Director of Harcourts Central, the event sponsor) also presented, followed by a mass butterfly release. Each butterfly released symbolized hope for those suffering from brain cancer – in particular – those suffering from childhood ependymoma.
Proclamations
On a local level, many chose to participate in activities to create awareness about ependymoma where they live. The day was officially proclaimed Ependymoma Awareness Day by over 20 elected officials, including: Austin, Chapel Hill, Cincinnati, Columbus, Houston, Illinois, Indiana, Madison, Massachusetts, Memphis, Michigan, New Hampshire, New York, North Carolina, Ohio, Oregon, Pittsburgh, Santa Barbara, Seattle, Shelby County, Texas, Trigg County, Washington D.C. and Wisconsin.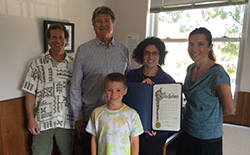 (California) Mayor Helene Schneider of Santa Barbara, CA declares Ependymoma Awareness Day. Pictured with Heidi Helfand's family and Bill Pintard.
(Germany) Ependymoma Awareness Day was also recognized in Germany, both by the German Cancer Research Center and the Federal Minister of Science of the State of Baden-Württemberg, Theresia Bauer.
Tea Party and Balloon Release in the UK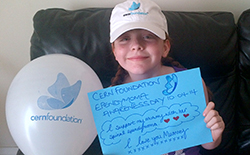 (Surrey, UK) Sue, diagnosed with ependymoma, had a small gathering with family at her house in Croydon, Surrey, UK. First, they had a tea party and then released CERN butterfly balloons close to their home. Next year, she hopes to make the event even larger and invite other survivors to raise more awareness in the UK. Sue said, "with CERN's support I think that is achievable."
Pictured is Sue's little girl, Louise, who is 10-years-old and helps her get through days when the pain hits hard. "She is my number 1 girl. She wears her baseball cap from CERN with pride as she knows that you guys have been so supportive, we both thank you so much." – Sue Bloomfield
Mother Creates Awareness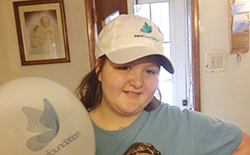 (Ohio) Julie, whose daughter, Ivory, was diagnosed with grade 2 ependymoma when she was five, helped create more awareness in Columbus, Ohio. Julie began by creating this beautiful illustration of a butterfly with Ependymoma Awareness for others to share on Facebook and Twitter.
She also created flyers with basic information about ependymoma to pass out at Ivory's school. A local softball team adopted her and held a balloon release on April 10, 2014 before their game.
Cards Sent to Local Hospitals in Australia
(Melbourne, Australia) The Robert Connor Dawes Fund, established in Australia in memory of Connor Dawes, sent out cards to pediatric ependymoma patients in Australia. The cards stated, "We wanted you to know that we are thinking of you, especially on 10th April as it's "Ependymoma Awareness Day". Since we all can't be there we thought we'd bring a butterfly to you by way of this card. It's our way of saying you are not alone. There are many people working to help ependymoma patients. Our fund was started in memory of Robert Connor Dawes (RCD) who had an ependymoma. He was 18. It's a big word for a young person to have. He was very special and we know you are too!" This is their first step at aligning Australia with the U.S. for this very important day.
CERN Foundation's Principal Investigator Interviewed
(Nebraska) Carol Staab reached out to the CERN Foundation wanting to find a way to help her brother, who was diagnosed with spinal ependymoma, and create more awareness in her community. She is a co-host and producer for Nebraska.tv's Good Life and interviewed CERN's Member, Dr. Mark Gilbert.
Others Create Awareness
Many families, patients, bloggers and advocacy organizations spread the word about Ependymoma Awareness Day and their experiences with local news services, on Twitter, Facebook or their personal blogs. Here are some of those posts.
Students Wore Butterfly Tattoos in Houston, TX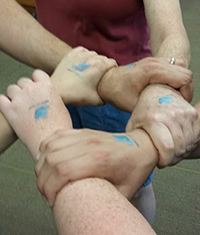 (Texas) The entire student body and teachers of Post Oak High School, located in Houston, TX, celebrated Ependymoma Awareness Day this year. The recognition, led by student Grace included several activities during the day. This included a reading to the class about ependymoma and the CERN Foundation. The group then showed support by wearing the butterfly tattoos, which allowed them to spread awareness outside of their class.